AIGA Austin: Finding Work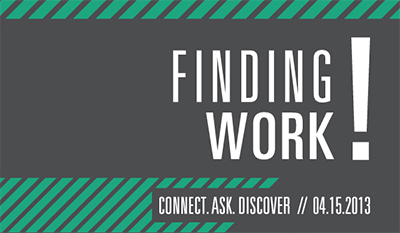 I recently went to a great Q&A panel for tips on finding work, hosted by AIGA Austin. It was a nice environment to meet others who were either getting ready to start their careers, or wanting to switch jobs.
Some nuggets worth sharing:
Less is more. The same rule of simple design also applies to simplifying job-hunting. Fewer, greater pieces in your portfolio is better than 20 not-so-good pieces. Same goes for your resume and cover letter- the less superfluous information a recruiter has to read, the better.
A good cultural fit with an agency/shop is vital. Plan to visit all of the agencies you're interested in.
You'll advance in your career faster if you don't restrict yourself to staying at one agency for a long period of time. Hop around, learn from different agencies, and grow from the experience. Find out which place fits best with you for the long-term.
If you're dying to work at a specific agency, don't bombard them with applications/emails. Wait to reapply after 90 days.
College experience is not necessary. Initiative and motivation is what matters.
You can teach skills. You can't teach personality.
Speculative work never grows old in your book, but after 3 years into your career, you should have more client work than spec.
People value personal development.
There's nothing wrong with cold-calling. It should be done more often, actually.
The panelist lineup included Greg Carley (Creative Director at Chaotic Moon Studios), Matt Mowat (Creative Director at Hammer & Tongs), Stefani Zellmer (Creative Director at Zeehive Creative), Scott McAfee (Managing Partner at SandersWingo), and Jennette Lemley (Talent Agent at Vitamin T). There was time after the panel to meet them; they were all very nice and honest with their answers.
I hope you found these notes helpful. I'll be writing a post in the near future with my own tips on finding work.